IS ADRIAN THERE? GREASY BEAR (ENT011)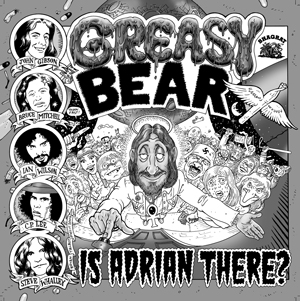 Still to be released album by this obscure but very accomplished Mancunian band from 1970.
Never let people tell you that after the beat era that spawned the likes of the Hollies that the rainy city only had Northern Soul to offer as the 60s turned into the 70s. There was a very healthy grassroots rock and roll scene which included legendary outfits like Stackwaddy, Sweet Marriage and Gravy Train.
Named by local scene-maker the late Roger Eagle who amalgamated two song titles by the Jefferson Airplane, 'Greasy Heart' and 'Bear Melt', the band started out as a folk-influenced duo with Chris Lee and Ian Wilson and by the time they signed to Vertigo in 1970, had become a five piece with the addition of Bruce Mitchell, John Gibson and Steve Whalley.

The Bear were a commune band in the tradition of the Pink Fairies and Mighty Baby and had close ties to the Manchester underground and paper, 'Grasseye', earning comparisons with the Byrds and the Dead.

Sadly Vertigo never released anything as the band was unhappy with the producer they were given and things reached breaking point after they delivered a very tongue-in-cheek ditty entitled 'Mother Fucking Hippie' to their label (the parent company of which was Phillips, a Mormon-owned corporation)!

Lee quit in 71 whilst the band carried on till 1973 when Bruce joined Chris in Alberto Y Lost Trios Paranoias. For those who dig the British big sky bands like Quiver, Help Yourself, Bronco and Cochise, the Bear are a big missing link and their irresistible brand of West Coast rock, folk, humour and blues (Whalley is a classic shouter in the style of Stevie Marriott) deserves wider exposure.

We almost released some material in 2009 when artwork by the great Bryan Talbot (Brainstorm Comix/Luther Arkwright etc) was commissioned. Sadly a consensus of agreement with various ex-members of the band to put out the record was never reached and the project faltered.

One day!